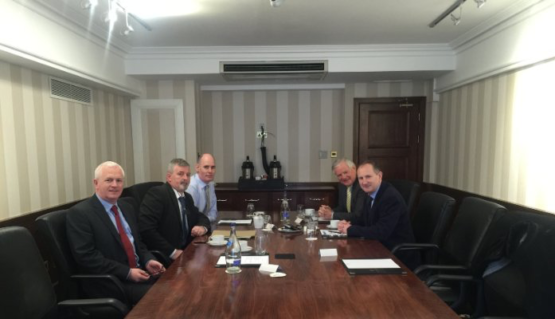 May 3, 2016
The Security Buyers Association held  an informal meeting with Paul Scallan CEO of the Private Security Authority on the 28th April, also in attendance was Padraic Cafferty.
Representing the Security Buyers Association were Peter Walsh IC Services Dublin, Joe Leen, Express Security Systems Cork and Martin Tuohy, FT Security Solutions Athlone. It was a very useful discussion with the association explaining the position of the small to medium firms operating in the Irish Security market and how improvements to regulation of the industry might be improved.
Paul took a lot of our information on board and he also informed the meeting of items coming down the track. He also asked if we would be willing to make a presentation to the board of the Private Security Authority, an offer will gladly accepted, the meeting finish with the intention of both parties keeping each other informed of developments in the Irish market.
We look forward to our next meeting where Paul accepted an invitation to address a meeting of the Security Buyers Association in near future.
– See more at: http://www.riskmanager.ie/index.php/portfolio/security-buyers-association-meeting-ceo-private-security-authority/#sthash.jw5Z1Vea.dpuf