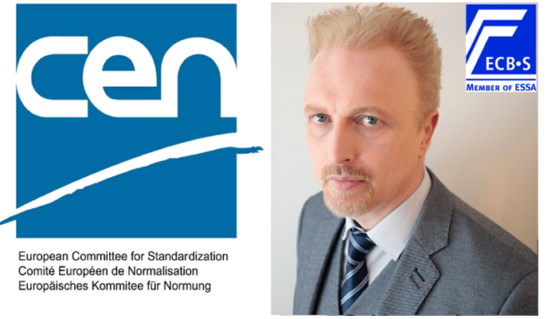 After work with The Private Security Authority and The Irish Safes Ratings Group, ESSA and ECB-S, The National Standards Authority of Ireland has appointed ICS Safe & Vault advisor Alan Donohoe Redd M.Sec.I.I. to the European Union's CEN Technical Committee 263, working group one and three.
These working groups deal with drafting new European standards for safes, vaults and related locking systems that apply across the European Union.
Alan brings a wealth of experience and knowledge to the working groups having worked with major organisations within banking, law enforcement and defence in Ireland, UK, Europe and the Middle East in the area of safes, anti hold-up, CCTV and alarm integration.
Alan is a longstanding distributor for Sargent And Greenleaf (Switzerland), Wertheim Safes (Austria) and Kaso Security (Finland). Alan is also involved with IC Service And Maintenance a specialist CCTV, alarm, access control and electrical integration company based in Park West in Dublin.
CEN is the European Committee for Standardisation, which brings together the National Standardization Bodies of 33 European countries.
CEN is one of three European Standardisation Organisations (together with CENELEC and ETSI) that have been officially recognised by the European Union and by the European Free Trade Association (EFTA) as being responsible for developing and defining voluntary standards at European level.
CEN provides a platform for the development of European Standards and other technical documents in relation to various kinds of products, materials, services and processes.
CEN supports standardisation activities in relation to a wide range of fields and sectors including: air and space, chemicals, construction, consumer products, defence and security, energy, the environment, food and feed, health and safety, healthcare, ICT, machinery, materials, pressure equipment, services, smart living, transport and packaging.